So it's that time of the year again that we absolutely love!
I smell Christmas in the air everywhere I go and I am sure you do too.
I am so excited; everywhere looks beautiful, magical and there is so much love with Santa, Rudolph, trees, stockings, mistletoe, sprouts, shopping, exchanging gifts, putting up the decorations…
As excited as we are about Christmas and all its magic, we never stop thinking about our lovely brides and how we can make their wedding planning journey easier.
For all you lovely brides getting married during this most romantic season, we have put together some ideas on how to embrace the season beautifully. We bring you lovely Christmas Wedding Inspiration. The one worry with planning a Christmas Wedding is that what if there is no snow on the day. Won't it be lovely to have a white Christmas Wedding? However, while there is no guarantee from dear Mother Nature on how the weather would be, you might just be lucky and she gives you lots of white, frothy, beautiful snow for your Christmas Wedding.
Here are some tips on how to create a themed Christmas wedding that would embrace the season in the most amazing fashion:
1) Choose a Venue That Does Justice to the Season
A magical season deserves a magical, beautiful, atmospheric and seasonal setting with rich sumptuous colours, roaring log fires and so on.

2) Choose Your Christmas Wedding Theme Carefully
Play with Twigs, Christmas Colours, Shimmering crystals, Floral, Berries, Snowflakes, play with naming your tables because you are spoilt with choice, Winter Wonderland theme is great, engage your guests by having Christmas Carols, add some finishing touches with Holly wreath decorations, get yourselves a brolly and wellies don't worry about the weather, get out there and rock that umbrella for the best ever photos.
3) Set The Tone for Your Christmas Wedding With Your Invitations and Save The Date
Your invitations or 'save the dates' will be the first insight into your big day so they are important for setting the tone for your big day – Silver and white are popular around this time of year, along with rosy reds and greens. You don't necessarily have to stick to a snowflake or Christmas theme during winter.

4) Consider a Wedding Dress That Keeps You Warm
You may want to look at wedding dresses with a higher neckline or sleeves and if you are having a 50's style dress you can't go wrong with pretty stockings or tights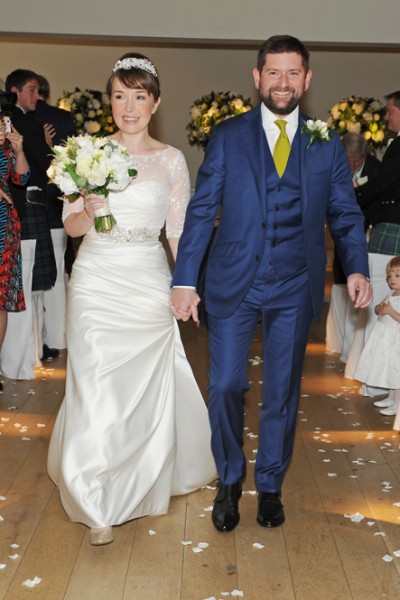 5) Choose Your Make-up and Hairstyle Carefully
You may want to consider makeup and hairstyle that would be understated but fierce at the same time. The season is great for red lips and lovely cheek highlighting. You may have a natural glow from the cold weather any way and this just looks so beautiful in your pictures.
6) Choose a Lovely Festive Bouquet and Flower Arrangements
You can get creative with your bouquet and Christmas Wedding flower décor incorporating flowers that show off the colours of the season. You don't want to pay premium price because the flowers you have chosen are out of season so research the flowers that are in season as well. Your guests would love to be gifted some of the flowers from the décor for the day and for your bouquet; depending on what you choose, you may be able to keep it for life.
7) Incorporate Your Theme Into Your Cake
I hope you have been inspired by some of these tips. While we have not been able to go over every single aspect of your wedding, I'm sure these would suffice in providing you with some more ideas for planning an amazing Christmas Wedding.
Have a fun filled wedding planning
Love
Sarah G xx