We designed a beautiful 50s style lace and tulle wedding dress for a bride who we now fondly refer to as 'Our Jennifer'.  To say that this lady is an angel will be the greatest understatement of the year.  Never have we met a bride who took care of us as much as we took care of her. She is always there with words of encouragement and kindness at every point and she even made herself available to us at one of our shows to help out along with another lovely bride of ours Katie Balaam.  Jennifer would bring birthday cards, flowers and home-made cakes and all sorts of little gifts almost every time she came into the studio to see us.
I met Jennifer in 2012 on a wet, windy, dark and dreary day in a forlorn Marquee at one of the loneliest wedding fairs I have ever been to and as soon as we started to chat, we hit it off.  She showed me lots of pictures on her Ipad of her vision for her wedding.  She loves vintage, sparklies and quirkiness and I could see that even from how she dressed and talked.  I thought to myself 'what a sweet and friendly person, I wonder if I would ever hear from her again'.
I did hear from Jennifer again and we arranged to meet at my then studio which was the grand location of my converted garage behind my house. Jennifer came to see me with her Mum; who seemed quite apprehensive at the start because she must have thought 'oh dear, a bridal shop in a garage. What has my daughter got herself into' but we soon got chatting and she could see the passion behind what I do. We discussed Jennifer's design.  Jennifer showed me some pictures of wedding dresses that inspired her and I drew a sketch of the tea length lace and tulle wedding dress she had described to me to show her and Mum my understanding of Jennifer's requirements.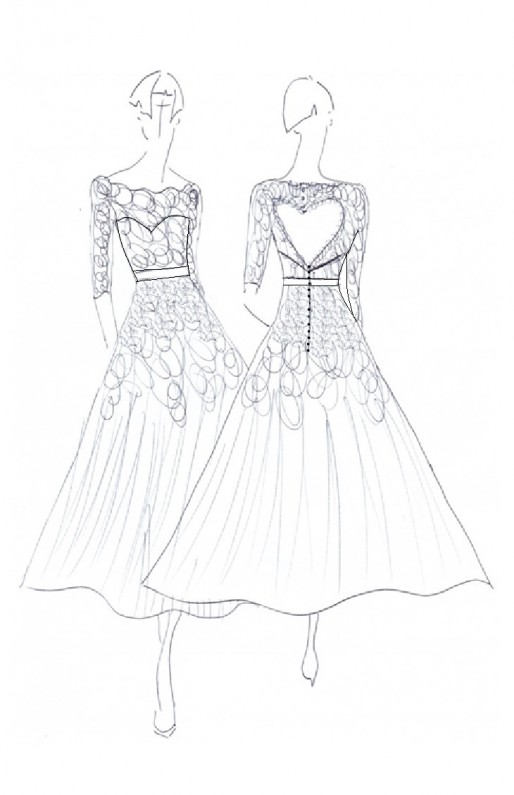 They were very approving of the design and then we discussed the choices of lace, types of beading and other details of Jennifer's dress.  We got cracking creating Jennifer's dress for her wedding.  This was the beautiful result of that project.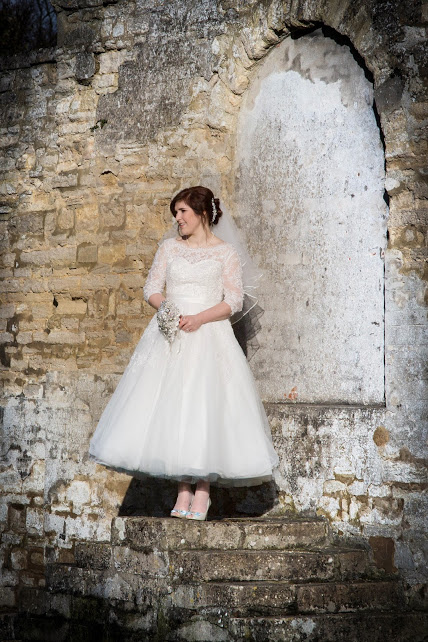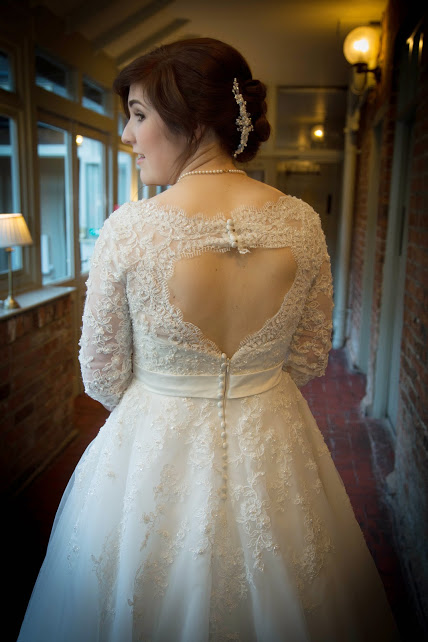 At one of our design consultations, Jennifer advised that she would like us to edit her wedding dress so that she had a light blue petticoat instead of the typical ivory or white and that got me really excited as I like when brides put their own mark on their dresses.  This is what her fabulous petticoat looked like.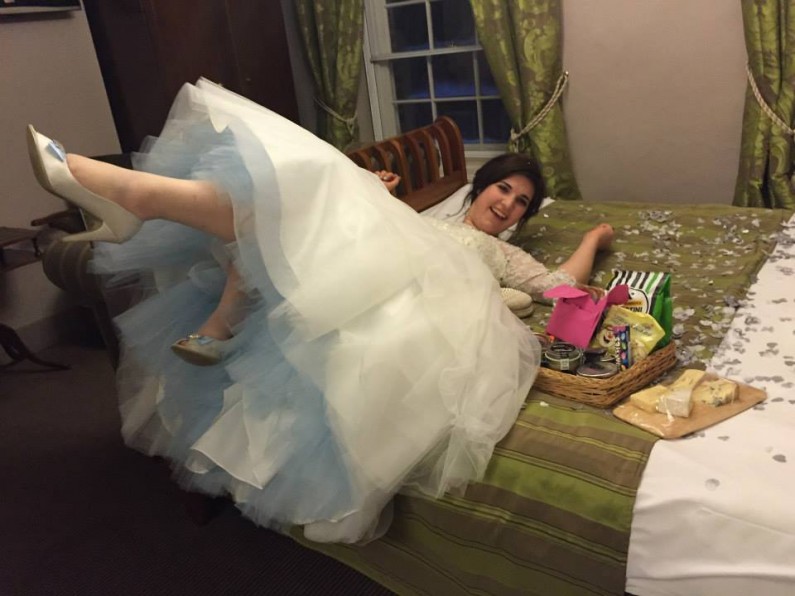 We also created a gorgeous tea length satin bridesmaid dress for Jennifer's Maid of Honour for which she chose a lovely silvery blue colour.  She looked really beautiful as well.
When we got the pictures of Jennifer's wedding, we were so delighted and we could see that an amazing day had been had by all who attended.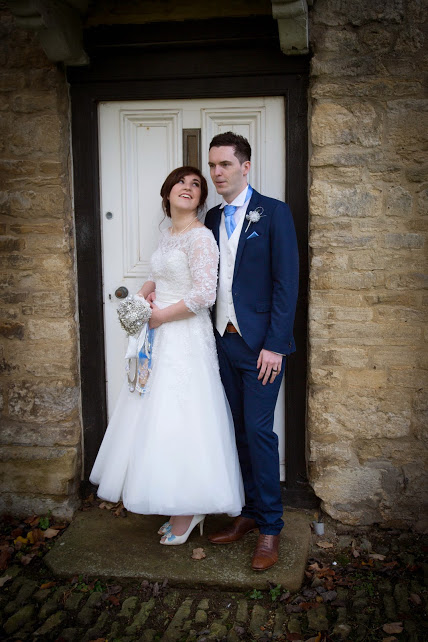 We were not very surprised though knowing what a lovely person she is.  We wish Jennifer and Tom the most amazing and beautiful married life and lots of little gorgeous babies.
I hope you have enjoyed sharing Jennifer's wonderful bridal experience with us. Click Here to see more pictures of other bridesmaids dresses and wedding dresses in our collections.  If you like 'dress name' or any other Bridesmaids/ wedding dresses you have seen from our collections and want to try some on or get more ideas for your dream bridesmaids dresses or wedding dress, then do please contact us.
[gravityform id="1″ title="true" description="false"]