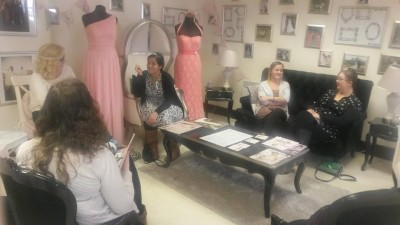 Here is some advice to remember when you first decide to go Wedding dress shopping.  If you follow the advice below you are sure to have no trouble in finding your Dream Wedding Dress.
Comfort is key
In the past the majority of Women chose clothing that made them look amazing and it didn't matter if you couldn't breath. This is not the case for your Wedding dress. You will be spending the whole day in this stunning dress and you want to be able to enjoy the day without any discomfort. So when you're trying on those lovely wedding dresses, it doesn't matter if your friends and family think you look incredible. If you don't feel comfortable or  the dress doesn't express your natural self then it's not the one. Many Brides choose dresses which are stunning but they are giving you a statuesque look which looks perfect when you're standing still but won't allow you to move or sit down. Here at Estilo Moda we always encourage all our Brides to have a sit down and prance around as they would on their special day.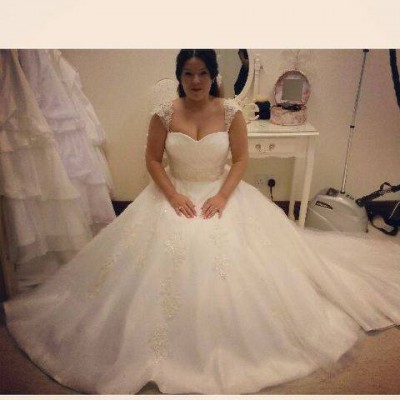 Size doesn't matter
Wedding dresses tend to come up one to two sizes smaller than the High street. When the assistant hands you a dress and you see the size do not freak out. This is a common trend in a lot of Wedding dress shops. The size label doesn't matter, as long as you love the dress. Here at Estilo Moda, we stock various sized dresses but our dresses do not come in sizes, they are made to measure.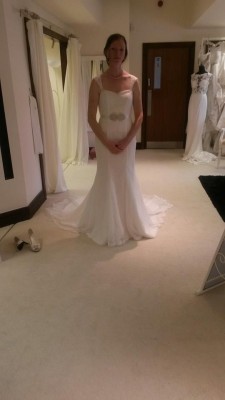 Wedding dresses do not have that hanger appeal
When you're shopping on the High street for clothing, a lot of items have that hanger appeal that entices you to grab it and try it on. Unfortunately no matter how beautiful Wedding dresses are the majority of them do not have that appeal. The dresses have a lot of heavy embellishment and long trains which weigh the dress down, making it look less attractive. You don't truly know what a Wedding dress looks like until you actually try the dress on. When you're looking through the dresses it you like an element of that dress then just try it on, you never know. Here at Estilo Moda we suggest for our Brides to look through our dresses and pick out any dresses that they wish to try on. But we secretly add in a few others that act like wild cards.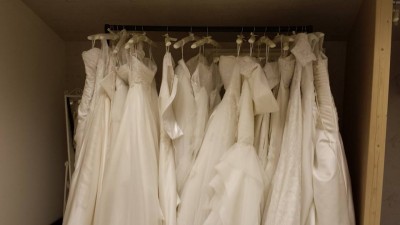 The best time to book your Wedding dress appointment 
The best time to book is a weekday morning, that is if you are available. The majority of Bridal shops will be booked up weeks in advance for weekend appointments. With a weekend appointments they are usually packed in for one after another which means you will be restricted to a set time. Why not book a day off work in advance with your friends and family to go dress shopping on a weekday morning which will ensure you get a far more personalised one to one experience and you will be free to take your time. Here at Estilo Moda we allow our Brides to have a One hour and half appointment slot, this allows them plenty of time to try on dresses and to gain that full experience of being in our gorgeous boutique.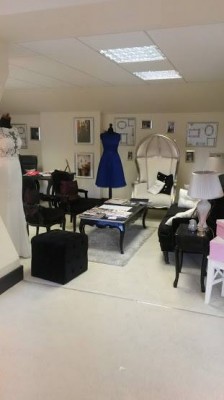 A little boogie goes a long way
After taking all this advice and you feel like you have found 'the one', then why not dance like you would on the big day as that is key . Not only will it make up your mind with regards to the fit but it's sure to put a smile on everyone's faces. A dance to celebrate you have found the dress of your dreams. You can always get your Bridesmaids to put on dresses and get them to dance with you. Here at Estilo Moda the majority of our Brides feel so at home in our Boutique that they are forever twirling and dancing.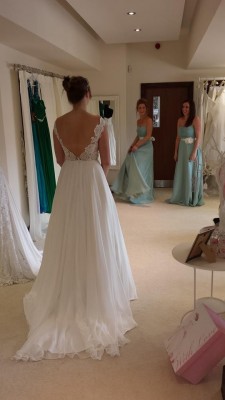 Enjoy your Wedding planning
Emelie xox
Estilo Moda Bridal is a Wedding Dress Designer based in Milton Keynes Buckinghamshire that designs and creates dream wedding dresses and other bridal wear for brides all over the United Kingdom and worldwide.
Speak to us about trying on some of the stunning dresses we have in our collections priced at different points to make it easy to match your budget. You may also prefer for us to create a bespoke wedding dress or some bridesmaid's dresses for you based on designs that you may have seen and would like to combine different features of. We work with all the best fabrics that all bridal designers use and we also have over 500 colours in different fabrics for your bridesmaids so you will be spoilt for choice.
To contact us, send an email to info@estilomoda.co.uk or call 01908925152 and let us know your bridal wear requirements.
www.estilomoda.co.uk

Find and Follow Us