Everyone written about in our bridal wear woes blog posts is delighted for us to share their story with you to get a better insight into how we work and how we help solve your bridal wear problems.
---
So we had a bride once who knew exactly what she did not want in a wedding dress and not much of what she wanted.  Unfortunately, for this bride, Mum knew exactly what she wanted her daughter to wear and she was not worried about expressing her preferences strongly.  Don't get me wrong, we loved this Mum as we do all the Mums who come with their daughters to discuss wedding dress design with us. We love Mums. They can be the most long suffering, self-controlled and indulging people you would ever meet but in this case, Mum made it clear to us that she came with her daughter to help and certainly help, she would.
The problem arose where every single dress Mum picked out was exactly what our bride did not want.  Bride said to me that she thought they were all beautiful but she just knew that she wanted something different but didn't know what it was.
Of Alexi, she said she loved the soft and romantic swirls of the organza and tulle skirt but she definitely didn't want a one shoulder. From this, we highlighted the word soft and romantic. Mum thought the mermaid silhouette of Alexi was sexy and would show off her curves but Bride was adamant that she did not want to show off any curves in her wedding dress.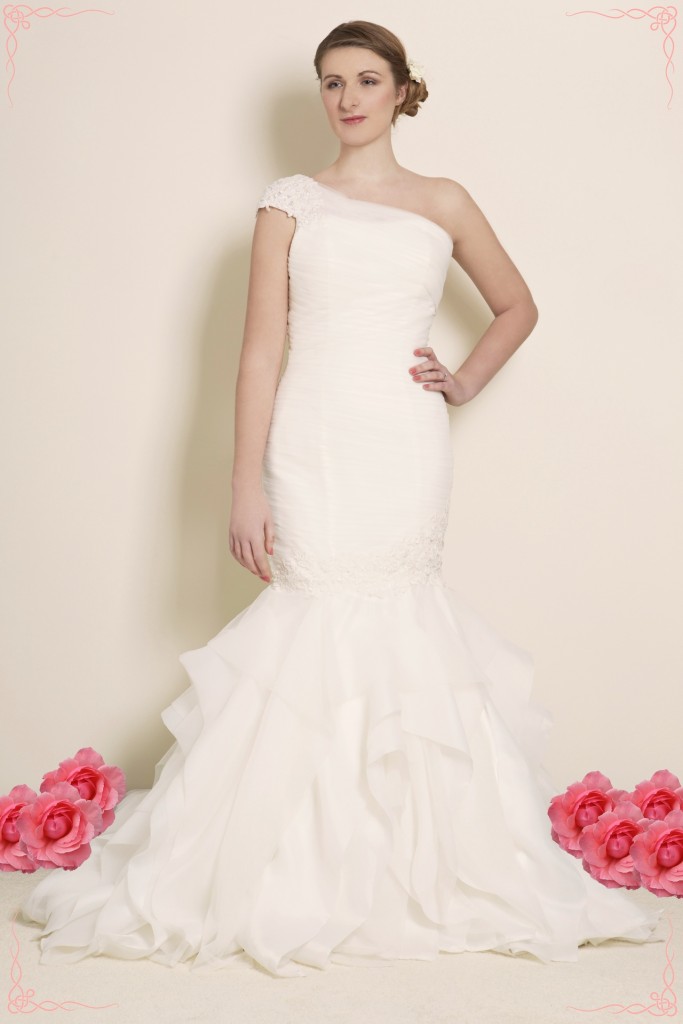 Of Ariana, she said how much she loved with the way the full circle skirt draped and swished but she certainly did not want a strapless. From this, we got a better understanding of the fact that she did not want any attention on her hips.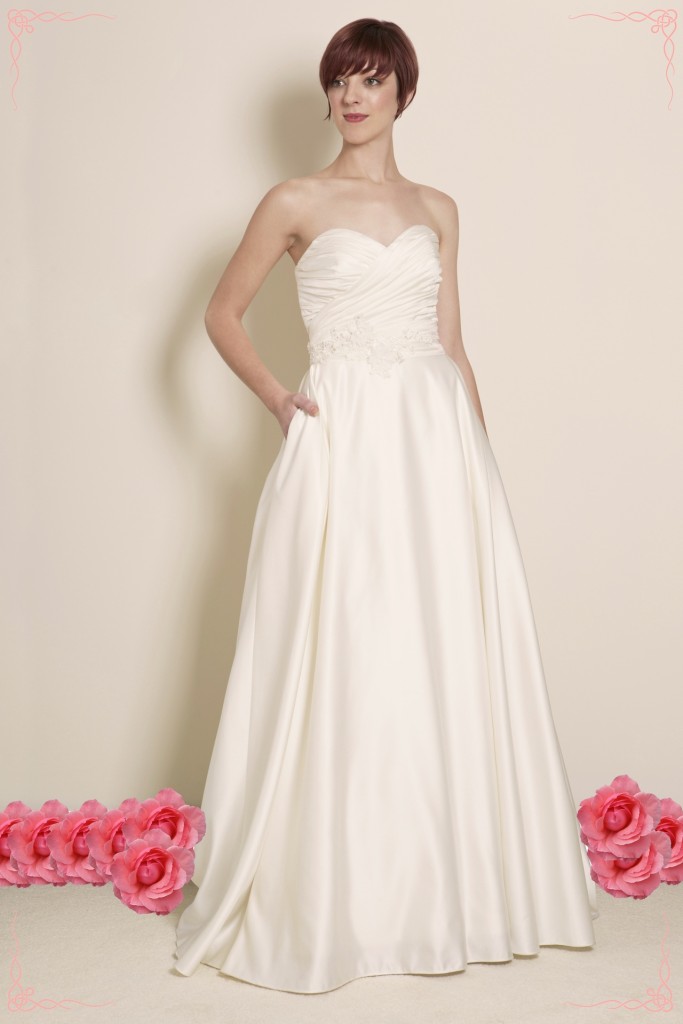 Of Amira, she said she was very very very smitten by her deep V low back and the beautiful cotton lace with big leaves and flowers appliquéd on the bodice but wanted a skirt that would hide her hips more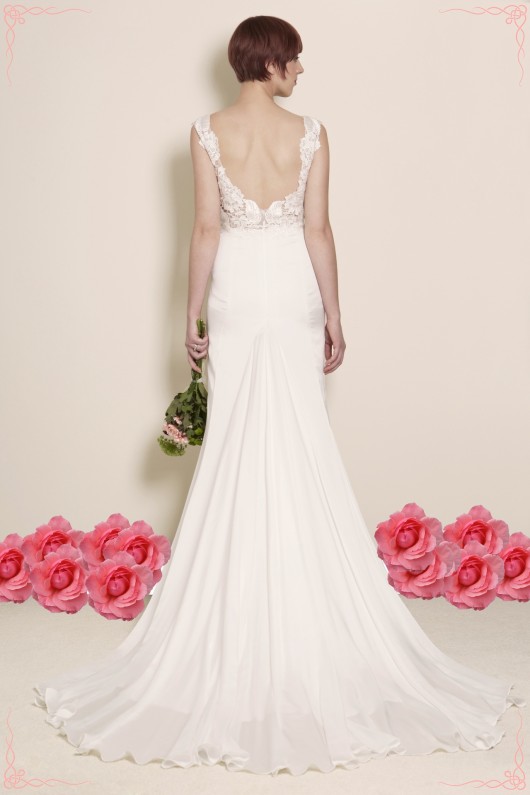 Of Aleah, she initially thought she had found the one and actually considered a mermaid underskirt and A-Line tulle overlay featured on Aleah for a long time as a fabulous compromise between hers and Mum's choices. She eventually said she would rather keep the lace illusion bateau neckline bodice and the A-line tulle overlay trimmed with a corded lace border but have the satin mermaid underskirt as an A-Line as well.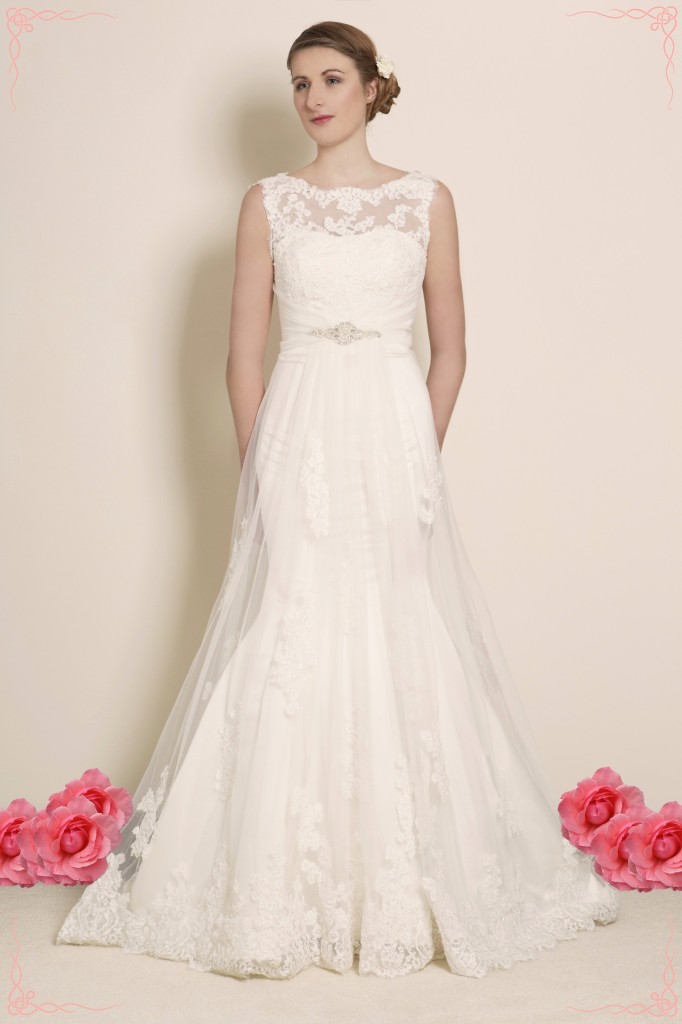 I got super excited at this point because I had the perfect dress dancing around in my head for her.  You would think that after almost 12 years of doing this, I would be all "weddingdressed out" (my own special term for it) by now but No, I still get incredibly excited when a design starts to fall in place and a bride's personality and preferences start to evolve. Anyway, back to Bride. I created this sketch for her and showed it to her and Mum and oh the expression on their faces!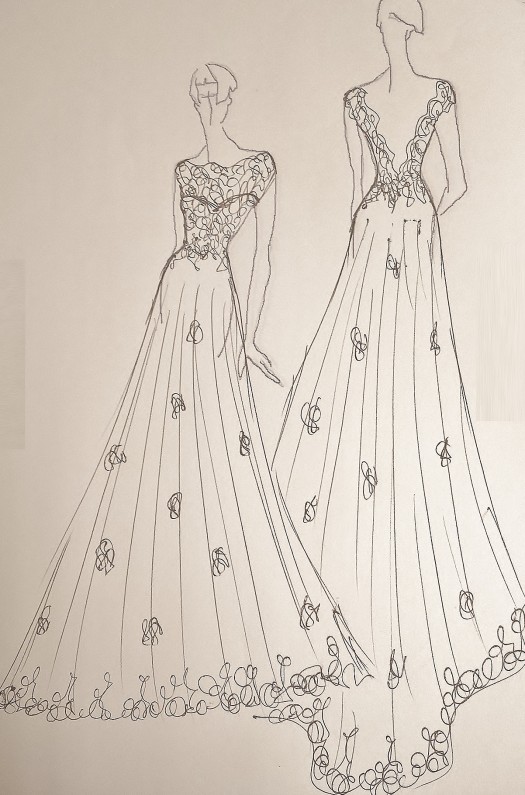 At this point, she proceeded to show me a picture she had saved on her phone which had features that were so similar to the dress I had sketched for her and I was thinking 'err, why did you not show me this picture when I asked for your inspiration' but to be honest, I'm happy she didn't show it to me because it would have looked like we just copied that design.  In any case, we had so perfectly found the one and it may have taken us quite a few try ons, some tears and some tantrums but it was what was in her head all along and she now had the 100% confirmation that it was her dream wedding dress. Plus, she had the added bonus of picking out every fabric and trim that would be used to create her dress; making it even more of a dream wedding dress than any other.   Mum, on the other hand, still felt that she could have turned on the full sex appeal and hugged her curves to within an inch of their very existence but she was really happy and I could see that her daughter's joy meant more to her than anything else. Result!
Hope you have enjoyed this story and I look forward to sharing the next one with you my lovelies.
Happy wedding planning and many blessings,
Omo xxx
---
Are you having trouble finding the perfect dress or other types of bridal wear for your big day?  Do come in and have a session with us and the result typically is that you are equipped with the knowledge you need to make that big decision and if you decide you would like for us to create your wedding dress, then even better! Send us a message to ask your questions.
[gravityform id="1″ title="true" description="false"]
---