Are you looking for backless wedding dresses or other stunning wedding dresses at a price to suit you, then read on!
Estilo Moda Bridal has finally released our much awaited new bridal wear brand Savvy Chic which represents your every wedding dress dream fulfilled at prices that would make you whoop with joy. In this pilot collection of the brand, we have created a number of different wedding dresses to suit every bride including the now popular backless wedding dresses at affordable prices. To celebrate our new brand, we thought we should show you some of our backless wedding dresses from sketch to the finished product. This is how we start our process for both our new collections and for each individual bride. Each and every one of our Brides is given a sketch to keep to help them remember their stunning wedding dress design. It's an experience all our brides enjoy and many say is extremely unique.
Here are some of the stunning backless wedding dresses and Illusion wedding dresses in the new Savvy Chic Bridal Collection: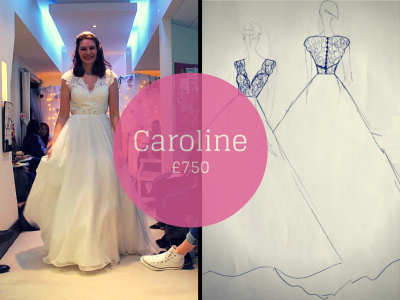 Here is Caroline, she is our version of the Duchess of Cambridge wedding dress. Caroline has a lace bodice in a V- shaped neckline. The neckline is also illusion as she is only lined from the bust down. The lace then carries on to the cap sleeves. The back of Caroline is the real feature, she has an illusion neckline created by just the lace with gorgeous Ivory buttons. For those of you that love a feature back or a backless wedding dress, this is definitely one for you. Caroline's full skirt is created with a Chiffon fabric which creates a whimsical elegant look.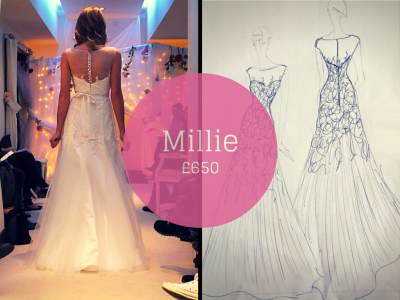 Here is Millie, she is our sophisticated woman . Millie has an illusion Neckline which is created from an Illusion fabric. The Bodice is covered in a Corded Lace Applique which is hand stitched on and lightly beaded. The lace carries on from the sweetheart neckline down to the hips. Where the lace stop there is a soft tulle; finishing the skirt in a graceful style. Millie is fitted from the waist down to the hips, then the skirt flares out creating a Trumpet silhouette.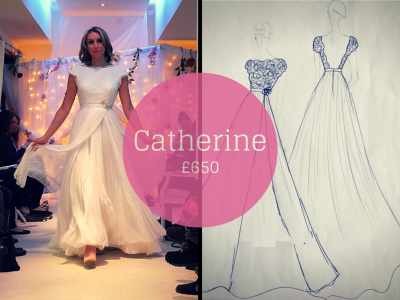 Here is Catherine, she's a dress we are in complete awe of. This is one backless wedding dress that spells statement, elegance and fun all at once.  Catherine has an Ivory soft Lace bodice in a boat neckline, with lace cap sleeves. The waist is emphasised with a plain Chiffon waistband. The skirt has a crimped Chiffon A-line skirt. The skirt has multiple layers with the front having a slit to give you that graceful look. The back of Catherine is also eye catching, with a low lace back.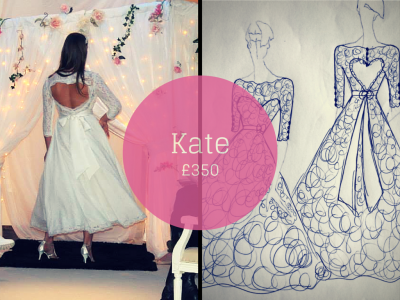 Here is Kate, our adorable dress and named after one of our most beloved brides. Kate is a Full soft lace 50s style backless wedding dress, in a Tea length. She has three quarter length sleeves in the soft lace with buttons at the edge. The front has a Lace illusion neckline with a sweetheart lining visible. The waist has a Satin Sash with a lovely Satin bow to finish it off. The Back of the dress is incredible. Instead of your usual key hole back, Kate has a heart shaped key hole. The heart is emphasised with a lace border and buttons at the neck to hold the shape in place. You can also see the Satin Sash tied at the back into a neat bow. With this dress you can showcase those incredible shoes that usually no one is able to see.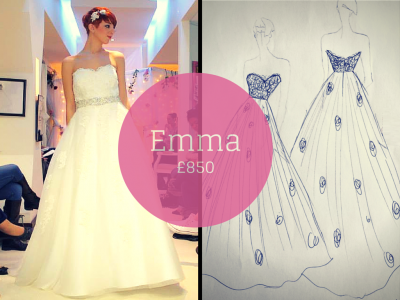 Here is Emma, our classic beauty. Emma has a corded lace appliqued bodice in a strapless sweetheart neckline. The edge of the neckline has a beautiful lace edging to emphasise the shape. The skirt of Emma is in a Classic ball gown silhouette which flatters any body shape. The skirt is created using a Tulle fabric with a light scatter of lace applique, which compliments the bodice. Her back is a zip closure with a dipped back neckline, again emphasised with a lace border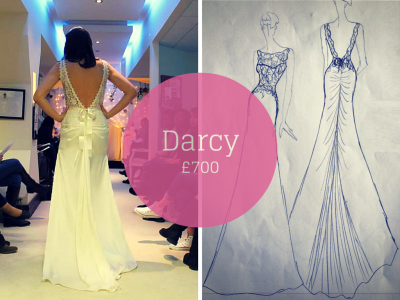 Here is Darcy, she is our subtly sexy dress. Darcy has a vintage flowery lace illusion neckline with a sweetheart lining visible. The lace from the bodice carries on to the top of the hips. The skirt is a sheath style which is created using a Satin Chiffon Fabric. Satin Chiffon has the qualities of both Satin and Chiffon which creates a stunning draped skirt. She has a low lace V- shaped back detail, like the front the lace carries on to the top of the hips. The back has pleating horizontally on the derriere which gives you that womanly curvy shape. She also has a godet at the back to create a waterfall style panel.
Come back here frequently to see more sketch to dress pictures as we update this weekly.
Call us on 01908925152 or email info@estilomoda.co.uk to book an appointment to try the stunning backless wedding dresses and much more in our affordable and acclaimed Savvy Chic Bridal Collection.
Happy wedding planning
Emelie xx
Estilo Moda Bridal is a Wedding Dress Designer based in Milton Keynes Buckinghamshire that designs and creates dream wedding dresses and other bridal wear for brides all over the United Kingdom and worldwide.
Speak to us about trying on some of the stunning dresses we have in our collections priced at different points to make it easy to match your budget. You may also prefer for us to create a bespoke wedding dress or some bridesmaid's dresses for you based on designs that you may have seen and would like to combine different features of. We work with all the best fabrics that all bridal designers use and we also have over 500 colours in different fabrics for your bridesmaids so you will be spoilt for choice.
To contact us, send an email to info@estilomoda.co.uk or call 01908925152 and let us know your bridal wear requirements.
www.estilomoda.co.uk

Find and Follow Us