Read an Excerpt from Our Must Have Wedding Dress Shopping Guide
Meet Eliza, who got married a few years ago and still wishes every day that she had worn a different wedding dress. Unfortunately, she's about 3 years too late now. She still hopes her husband would be open to a marriage blessing and then she can finally wear her dream dress. Long before Steven proposed to Eliza, she knew what her dream wedding dress would look like. She was sure it would be perfect for her and she knew what every last detail would be. She wanted to look like a modern day princess. The bodice would have been reminiscent of Grace Kelly's wedding dress bodice: lightly beaded lace, high neck but with cap sleeves rather than long sleeves. The skirt would have been a duchess satin fitted mermaid skirt, ruched from the hips to just before the knees and then full flared and pleated from the knees to the hem. The dress would have been completed with pearly buttons at the back to cover the zip and a fully pleated, lightly beaded train. Eliza ended up wearing an all over lace, off shoulder A-line dress with a puddle train. The dress was OK and perhaps, someone else's dream dress but it was not hers. She settled for this dress because she could not find her dream dress anywhere and the bespoke bridal shops she visited were too expensive. Today, she looks at her wedding pictures with regret because she did not have her high neck lacy bodice and full mermaid skirt; two things she had wanted on her dress since she was 5. Your story does not have to be the same. Ever wondered if the wedding dress you have chosen to wear is your exact perfect dream wedding dress. It is one of the hardest decisions to make and if not made carefully, could spell disaster and regrets. If you have not bought your wedding dress already, here are some top tips and advice to give you some help and inspiration when choosing your wedding dress.
Don't go bridal shopping until you have read our Bridal Shopping Handbook. Click on the picture to access our ultimate wedding dress shopping guide.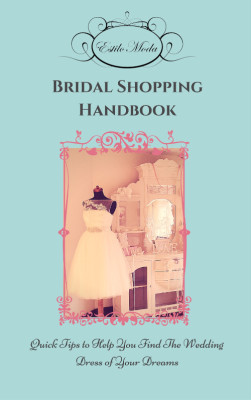 Click Here to access our Ultimate Wedding DressShopping Guide Book  Ultimate Bridal Shopping Guide
Happy wedding planning and many blessings
Omo xxx
Contact us to book an appointment to try on lots of wedding dresses and discuss the best options for you with us. If you decide to get your wedding dress from us, then great and if not, then you go away equipped with more information about what dress is perfect for you.
[gravityform id="1″ title="true" description="false"]