Everyone written about in our bridal wear woes blog posts is delighted for us to share their story with you to get a better insight into how we work and how we help solve your bridal wear problems.
---
So we once had a bride who in her own words is the 'most tomboyish tomboy ever and lives in Jeans and Tee- Shirts'.  At her first consultation, she told me that she just hated dresses and the very idea of putting on a wedding dress was making her break out in hives. It took us a while to convince her to try on some wedding dresses and she was so pleasantly surprised when she saw how beautiful she could look in a dress if only she tried.
After she had tried on a few dresses and she had told us her likes and dislikes, we sketched the most stunning wedding dress for her and it got to the point where we were discussing her wedding dress train.   When I asked her what train length she wanted, she looked at me funny like I was speaking another language.  She said she could just not imagine the foolishness of having a wedding dress train. She felt she would look really silly and her exact words were 'who do I think I am, Princess Diana?'  I tried to explain to her that wedding dress trains could add something special to the whole look and she has to remember that she is a bride just for that one day.  I explained to her about different lengths of trains and advised her to go for a sweep/ brush train that literally just swept the floor by about 5 or 6 inches from the dress hem. She looked at me like I was crazy and said thanks but no thanks.
I decided to create her sketch and show her the view of her wedding dress with a train and without a train just to see what she thought of the comparison.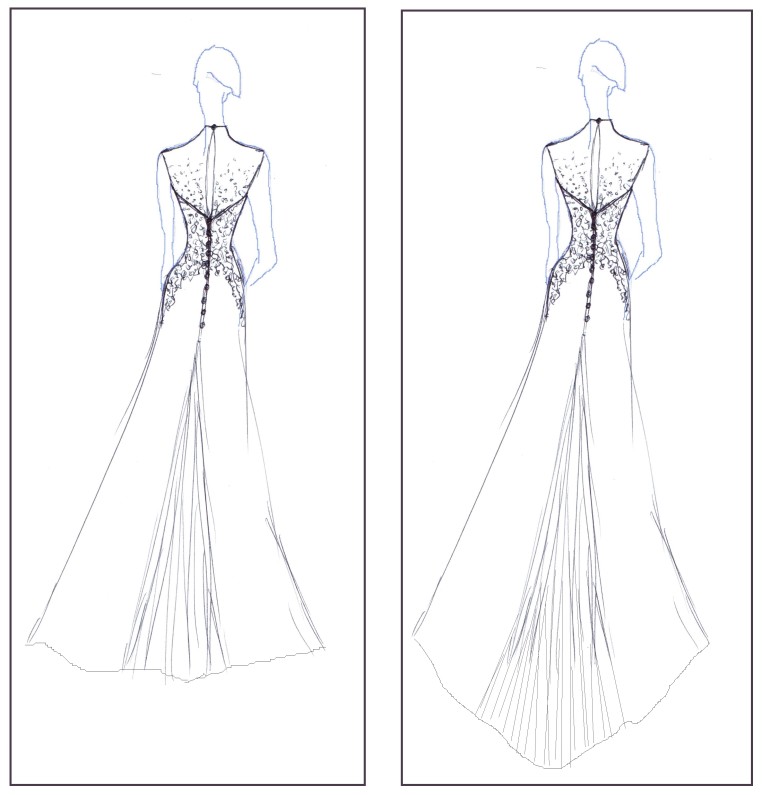 She looked at both pictures and she said to me that she felt that the sketch without the wedding dress train looked like a normal party dress or a prom dress.  She said she felt that she would be missing out on something if she went without a train and she was only hoping to do this once anyway so why not go the whole nine yards. I was really surprised at how quickly she changed her mind.  Please don't get me wrong,  while I don't believe that having a wedding dress train is the most important part of your wedding dress, I believe that it is indeed very important that you are entirely happy and completely over the moon with the wedding dress you have chosen.  In my role, it is imperative that I present you with all the different options available to you based on the wedding dress design you have gone for and then sit back and let you decide what works best for you.
So our bride made up her own mind but of course with our expert guidance as to what type of wedding dress train she really wanted and believe me when I say she was totally happy wearing a dress after it was created for her despite her previous disdain for anything remotely feminine. Result!
I hope you have enjoyed this week's installation of how we resolve some bridal wear problems.  I have worked with hundreds of brides in the past 11 years and I really do love recounting these stories.
Happy wedding planning and many blessings,
Omo xx
---
If you are worried about the type of wedding dress shopping experience you would have, then contact us immediately.  We really do make it count.  This wedding planning period should be the most special of your life and we always make sure that you and your entourage are given the best and most friendly treatment throughout your journey with us. Book an appointment for your own special wedding dress shopping experience.
[gravityform id="1″ title="true" description="false"]