Our Lace Cocktail Length Bridesmaids dress of the week, Jennifer is from our Brand new Savvy Chic Collection for 2015. Jennifer has been displayed on our mannequins within the Studio for 2 weeks now, and she has spent more time off the mannequin than on. A lot of our bridesmaids have been dying to try on Jennifer.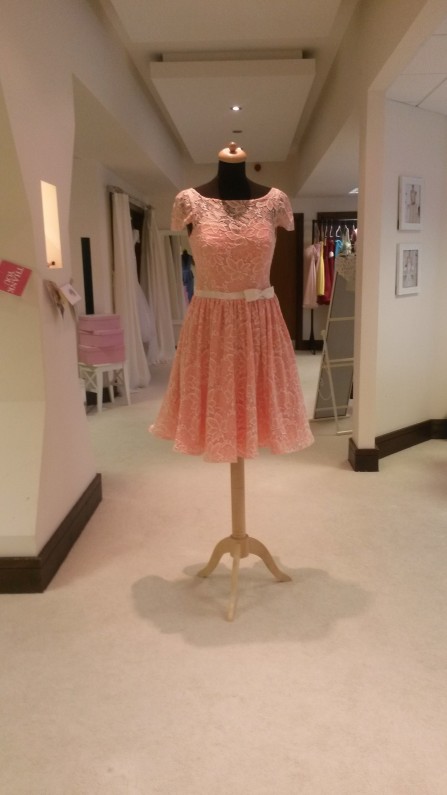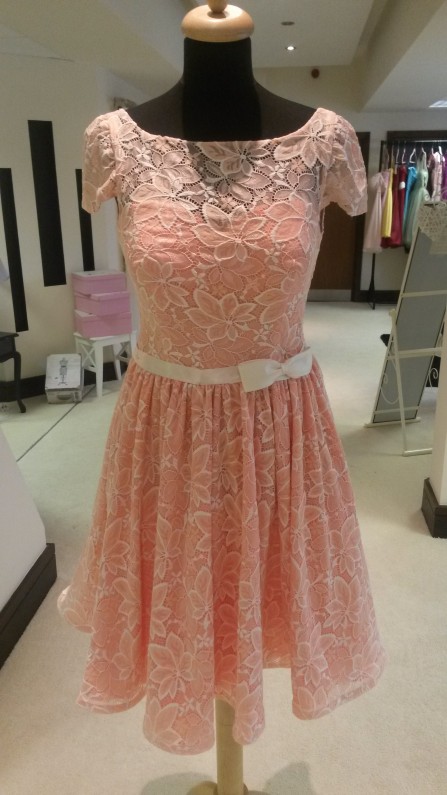 Jennifer is a Bridesmaids dress which is fun but also elegant, very 1950's style . Jennifer has a Lace which we have not used before. As you can see the Lace has a flowery pattern which is emphasised by an Ivory colour. Jennifer is priced at £230 which is an incredible price which includes being made to measure and all alterations.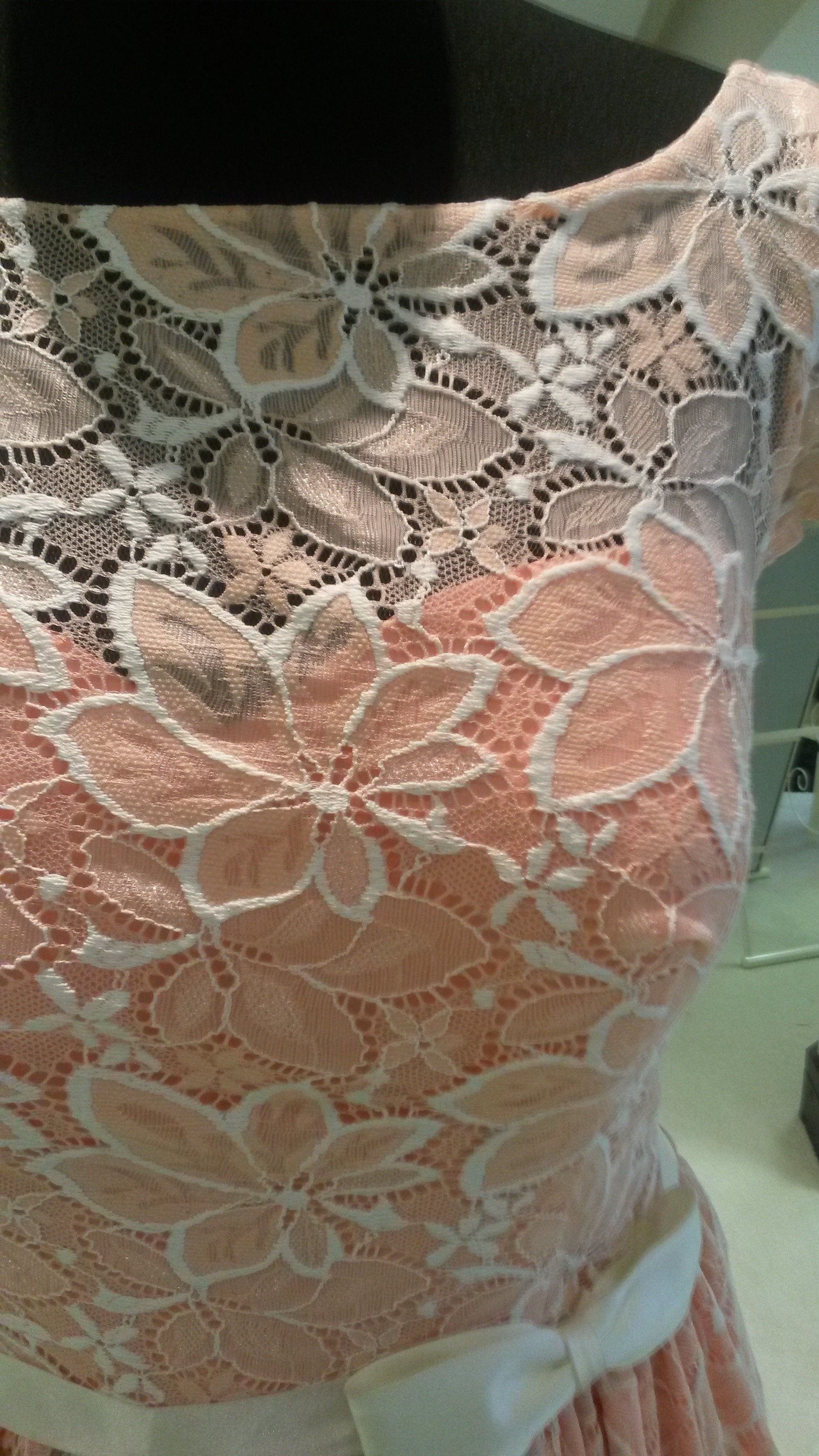 Collection: Savvy Chic Bridesmaids 2015
Description: Jennifer is a beautiful Cocktail Length Bridesmaids dress in a Full flowery lace. She has small gathers at the waist to create an A-line silhouette. The Bodice is an Illusion style, with a sweetheart lining neckline visible underneath the lace. She also has lovely lace cap sleeves which blends into the style of the dress beautifully. The back is a real feature, Jennifer has a low curved back with the lining only visible from the waist down to create the illusion of an even lower back feature. At the back of Jennifer there is a zip closure to allow for the wearer to get in and out easily.
Fabric: Lace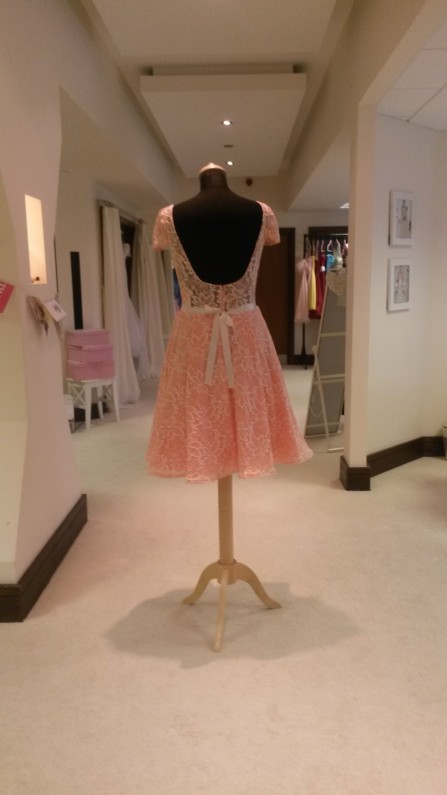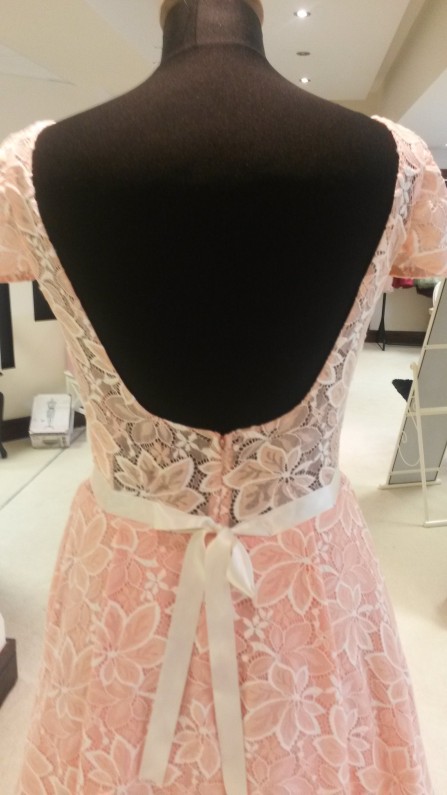 If you like Jennifer or any other Bridesmaids dresses you have seen from our collections and want to try some on or get more ideas for your dream bridesmaids dresses or wedding dress then you can contact us today for your very own personal consultation.
Call us on 01908925152 or Email eparkes@estilomoda.co.uk.
Look out for more beautiful wedding dresses and other bridal wear from our new Labels.
Happy wedding planning,
Emelie xx
Estilo Moda Bridal is a Wedding Dress Designer based in Milton Keynes Buckinghamshire that designs and creates dream wedding dresses and other bridal wear for brides all over the United Kingdom and worldwide.
Speak to us about trying on some of the stunning dresses we have in our collections priced at different points to make it easy to match your budget. You may also prefer for us to create a bespoke wedding dress or some bridesmaid's dresses for you based on designs that you may have seen and would like to combine different features of. We work with all the best fabrics that all bridal designers use and we also have over 500 colours in different fabrics for your bridesmaids so you will be spoilt for choice.
To contact us, send an email to info@estilomoda.co.uk or call 01908925152 and let us know your bridal wear requirements.
www.estilomoda.co.uk

Find and Follow Us