Satin and Lace off shoulder wedding dress for one of the most wonderful people we have ever met.
Our bride spotlight this week is on a really lovely bride, Jackie Dodworth who got married in the summer last year.  We met Jackie when she came to our December 2013 Grace and Lace Wedding Dress Collection launch party.  She came with her friend, Katie Balaam who ended up being the collection winner.
Jackie came back to see us after the show to discuss her dress as she had seen a dress on one of the models on the catwalk that she loved. She had her eye on our Anya wedding dress.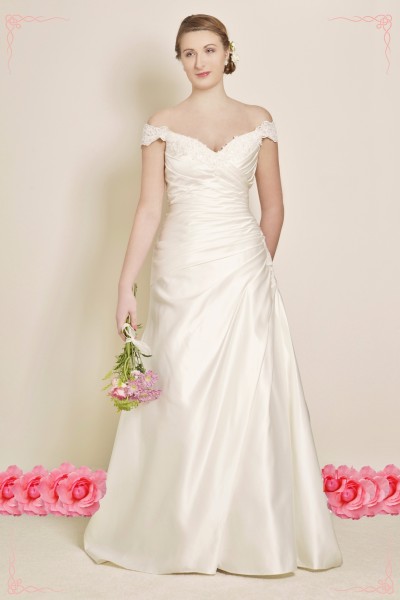 Jackie had tried on some other wedding dresses in other shops that she also wanted us to take a look at.  We reviewed the dresses Jackie had tried on and advised that we would prefer to design her one unique design for her and she was very happy with that.  We proceeded to put Anya on Jackie and she looked so beautiful in that dress that she decided it was to be her wedding dress.  Jackie asked if she could personalise Anya to suit her and we asked her to go for it.  She decided to add a lot more corded lace appliqué to the bodice around the bust area at the front and the back to arrive at her dream wedding dress. Here's the sketch that we created for Jackie at that initial consultation: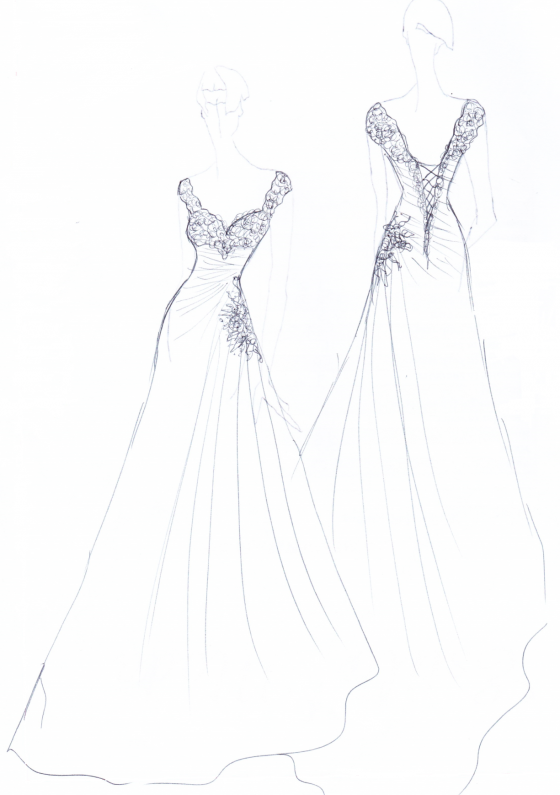 We created Jackie's dress using a smooth and heavy handle luxury duchess satin complimented with flowery lace appliqué that had been heavily beaded using tiny seed pearls, glass beads and iridescent sequins.  The effect was breathtaking on Jackie.  Here are some beautiful pictures of Jackie on her wedding day.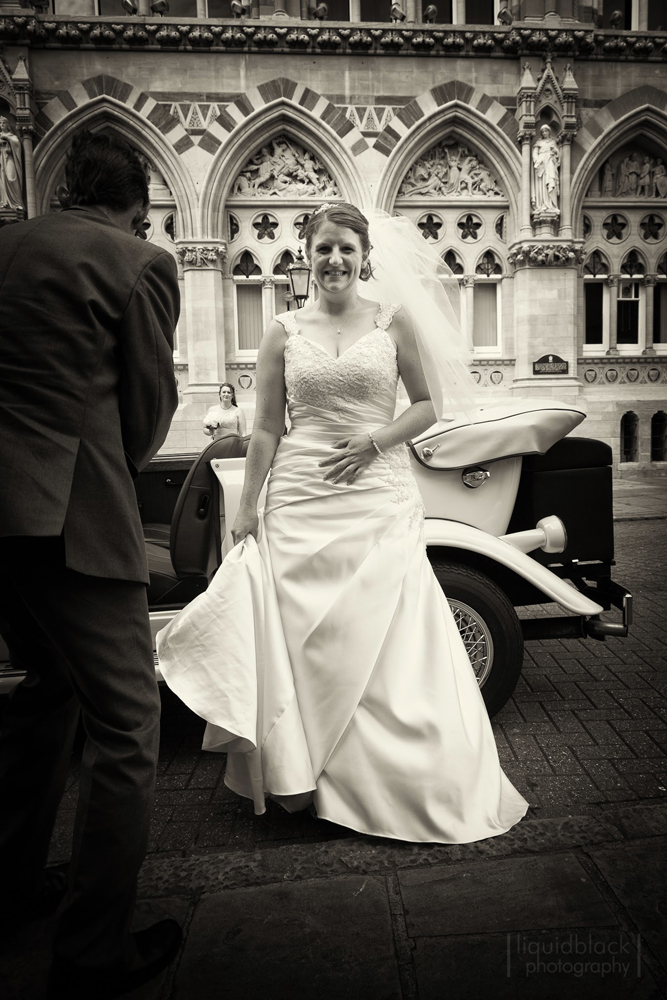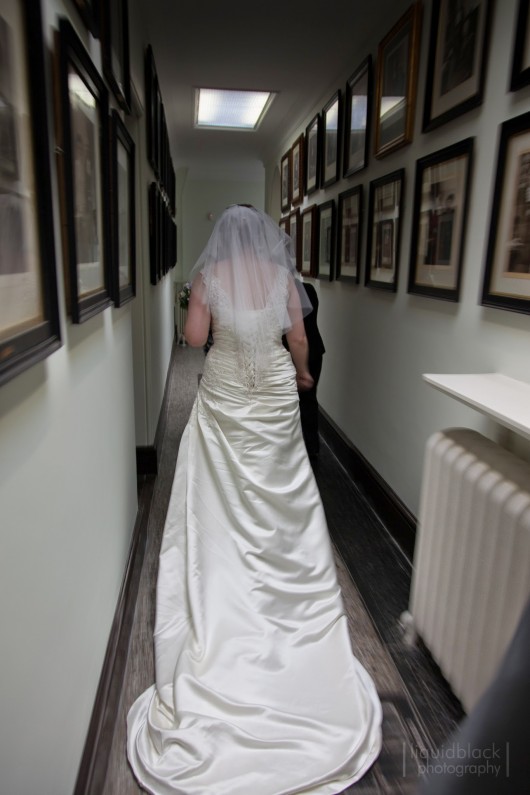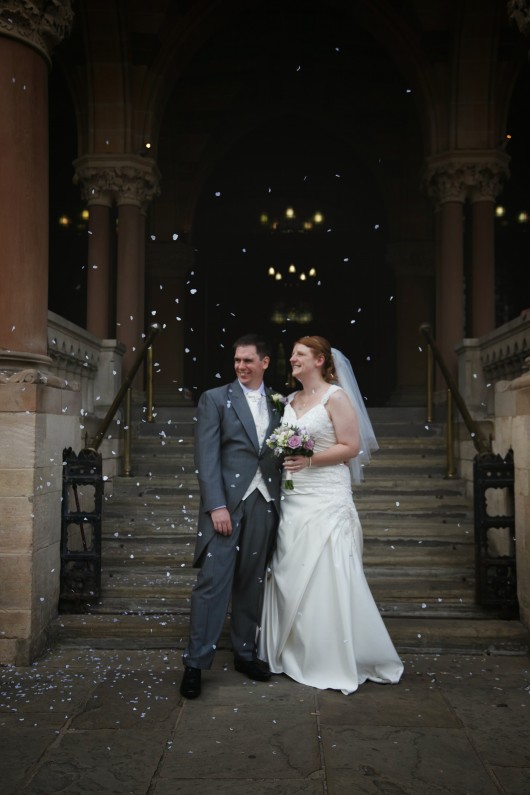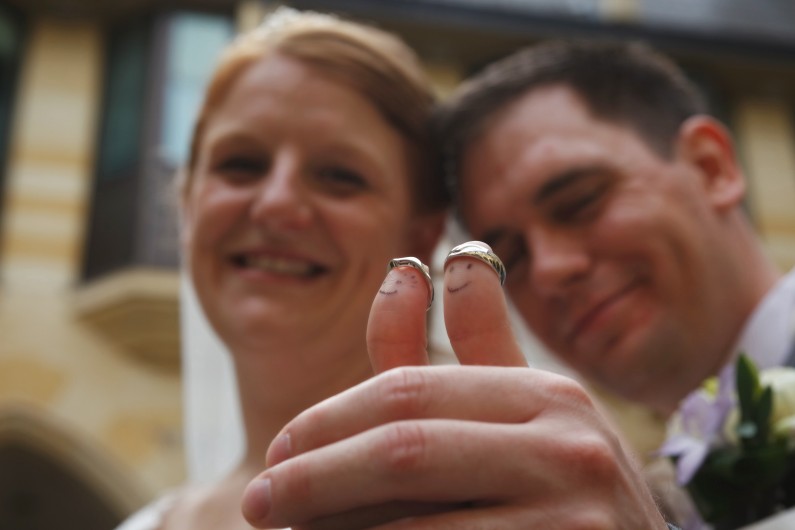 We also created the dresses for Jackie's three bridesmaids.  She wanted three bridesmaids dresses in the same design and different colours. The colours Jackie chose were pastel pink, green and lilac.  All the colours complimented one another and each bridesmaid looked beautiful in her ruched sweetheart neckline bodice, full length A-line skirt and ruched straps bridesmaids dress.  Here are some pictures of Jackie's bridesmaids on the day.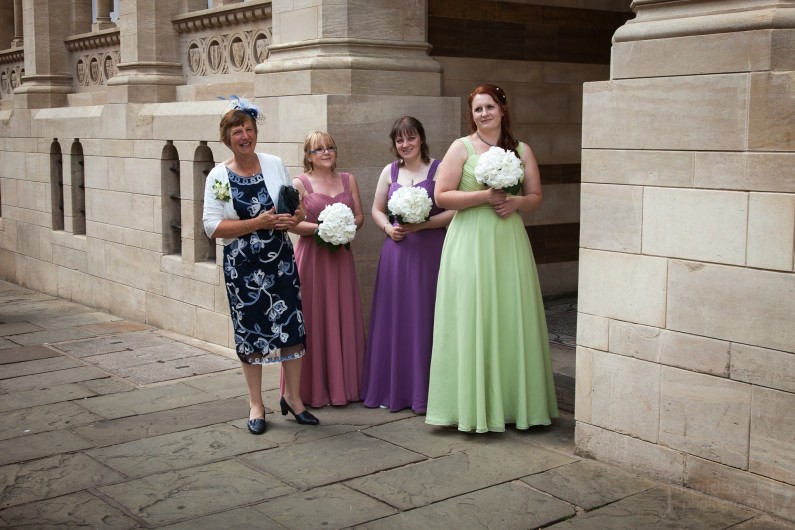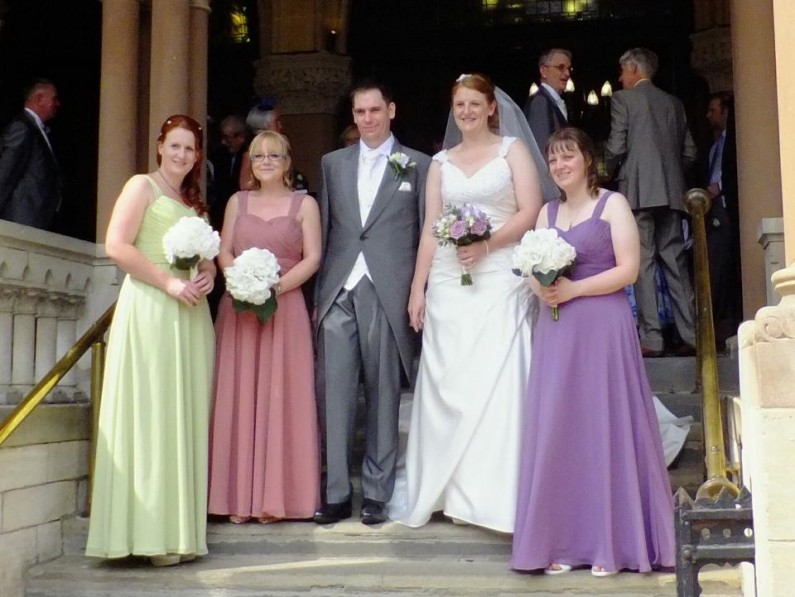 This is what Jackie had to say about her experience with us 'I had my wedding dress and bridesmaid dresses designed and made by Estilo Moda after struggling to find 'the one' in other bridal shops. They put on an amazing fashion show at an open day giving me and my fellow bride lots of wonderful ideas. Lisa and Emelie were wonderful throughout the design, making and fitting process. They listened to my likes and dislikes and created the most beautiful wedding dress for me. I couldn't have asked for anything more. My bridesmaid dresses were equally as beautiful and all the dresses fitted perfectly. 
Estilo Moda gives you more than a dress. They provide an amazing and thoroughly enjoyable experience. They are professional but friendly and they make you feel like part of the family and special at the same time. They also have an amazing eye for detail and add lots of lovely little touches like personalised hangers. A simple but wonderful touch.
I can't thank Estilo Moda enough for my wonderful wedding and bridesmaid dresses. I would recommend them to anyone looking for a wedding dress, bridesmaid dresses or just a dress for a special occasion. They will make sure that you get exactly what you want and make sure that it fits you perfectly.
Thank you Lisa and Emelie'
We loved working with you Jackie.  You're one of the loveliest people we have ever met.  We wish you all the best in your marriage and for the future.
Many blessings and lots of love
Omo and the entire Estilo Moda Bridal team
---
To discuss your bridal needs or maybe even just to try on some beautiful wedding dresses to get ideas for you and your bridesmaids, please call us on 01908925152 or email info@estilomoda.co.uk
Estilo Moda Bridal is a Wedding Dress Designer based in Milton Keynes Buckinghamshire that designs and creates dream wedding dresses and other bridal wear for brides all over the United Kingdom and worldwide.
Speak to us about trying on some of the stunning dresses we have in our collections priced at different points to make it easy to match your budget. You may also prefer for us to create a bespoke wedding dress or some bridesmaid's dresses for you based on designs that you may have seen and would like to combine different features of. We work with all the best fabrics that all bridal designers use and we also have over 500 colours in different fabrics for your bridesmaids so you will be spoilt for choice.
To contact us, send an email to info@estilomoda.co.uk or call 01908925152 and let us know your bridal wear requirements.
www.estilomoda.co.uk

Find and Follow Us