The issue of shopping for bridesmaid dresses as easy as it should be, can sometimes be a minefield for brides. We have seen many brides who have had no problems finding and selecting their own wedding dresses but have found themselves in floods of tears and tied up in anxiety with regards to choosing their bridesmaid dresses. I will address seven of these problems and the solutions to them to make bridesmaids shopping a lot easier to find the perfect dresses for the wedding.
1. Have an Idea of the Design of Bridesmaid Dress You Want: With the advent of sites like Pinterest, brides are finding it easier to shortlist the things that will work perfectly with their style and theme of their wedding.  The bridesmaid dresses should also fall under this category.  I always advise brides that before their bridesmaid consultation, they take a look online and in magazines, to see the styles of dresses that they love and print off pictures of these or save the images on their smart phones to show to us at the consultation. This serves to save a lot of time and typical headaches that come of not knowing what you want.  We have seen where bridesmaids have tried on so many different styles of dresses and still the bride does not know what she wants because she was not adequately prepared in the first place.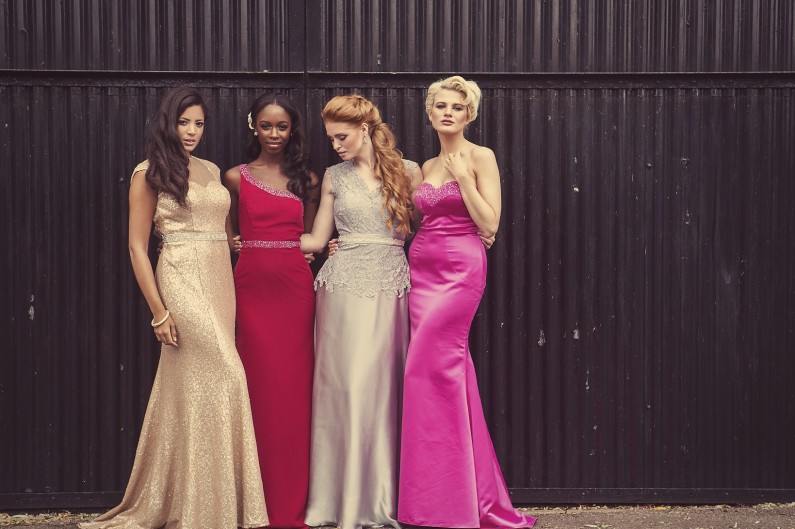 2. Set a Realistic Budget:  Some brides set a budget that is way too low for their expectations for their bridesmaid dresses.  We always ask the brides for their budget during the initial consultation process and if we find that her budget is unrealistic, we very gently let her know. We then we guide the bride and bridesmaids around the dresses that are as close to their budget as possible and usually, they find a dress that ticks all the boxes without breaking the bank.   Bridesmaid dresses come in at different price points at various stores. Brides need to do a little research into what they are able to afford before the hit the shops with their bridesmaids. It can be quite disheartening to find the perfect bridesmaid dress and then see that the price tag is way out of your budget.

3. Start Your Bridesmaid Dress Shopping Early:  When it comes to wedding planning, leaving any part of it to the last minute is a recipe for disaster.  I say to the brides that the earlier you plan, the easier it is for you to create as perfect a wedding day as possible and the later you plan, the more you find you have to settle for things. With bridesmaid dress shopping, the norm is to go round a few bridal houses to try on different designs until everyone can agree on the best dress.  It is important to note that the dresses then have to be ordered by the bridal shop from the designer or in our case, created from scratch. This ordering or creation process would typically take 6 months and then the bride also has to take into consideration the time necessary for the fittings and the alterations which would take anything from 4 to 8 weeks. To reduce the stress on the bride as the wedding draw closer, we recommend that the bridesmaid dresses early enough so that they are ready and fitted at least a month before the wedding and then everyone can relax.
4. One Style Sometimes Does Not Suit All:  Women come in all different shapes and sizes and the idea that a certain design will suit every single bridesmaid is another issue that causes problems for brides and their ladies.  There are some dress styles and some fabrics such as A-line dresses and chiffon fabrics that are more forgiving than others. Otherwise, it may be an idea for the bride to choose the same fabric and same colour and allow the bridesmaids to design or choose dresses that suit each of them and they feel comfortable in and complement one another.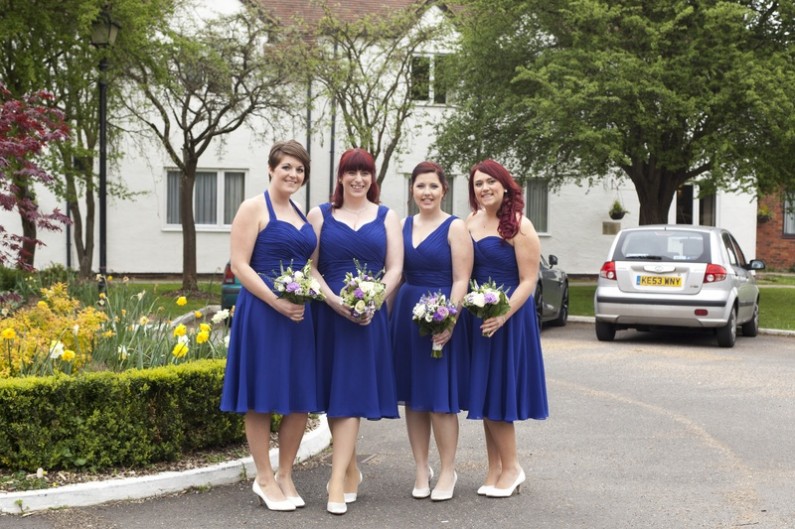 5. Choosing the Right Colour:  Again, this is another issue that some brides have struggled with.  Certain women feel they look more beautiful in one colour over another and I do agree.  Girls who are pale sometimes don't look as beautiful as they are when they wear dresses that are light coloured such as nude or blush pink.  We always advise that the bridesmaids all try different designs to start with and work out which design works best and then each of them try dresses that are the same colours of the bride's choices and the colour that works best for everyone will be the winner. In some other cases, where the bride is willing, bridesmaids have all chosen different shades and hues of the same colour that suits them best and this looks beautiful also.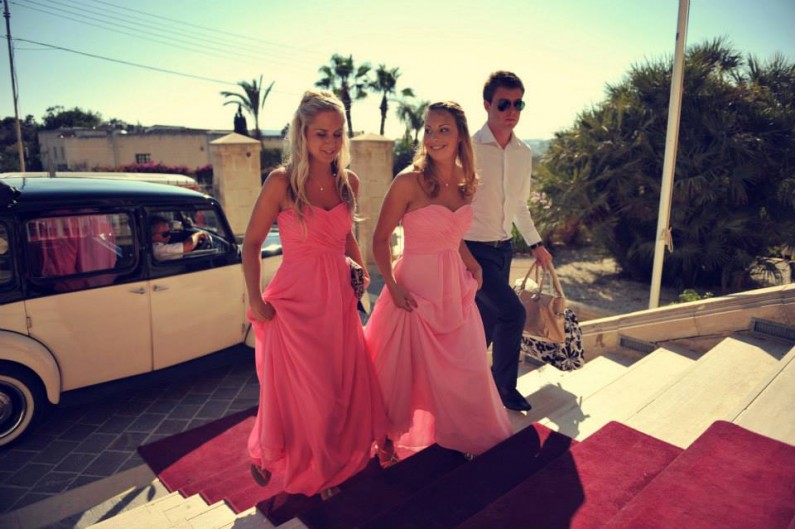 6. Note Important Terms and Conditions:  This is a problem many people and not just brides have; 'reading small print'.  We once had a bride who failed to read the terms and conditions which included information about fittings and alterations. Two of her bridesmaids went up in size and their dresses did not fit them as their measurements had changed significantly.  The bride failed to read the conditions that said we are unable to increase the size of certain styles of dresses such as chiffon dresses because of how they are constructed. She thought it would be a really easy task to just whip out the machine and fix them. Unfortunately, this was not the case and while she was happy with the solution that we provided to her to remove the stress on her, she had to agree with us that she would have better prepared her bridesmaids if only she had read the terms and conditions properly before signing it.  There are so many points with the terms and conditions of the bridesmaid apparel that brides must take note of so that they are able to work with their bridesmaids and the bridal shop or designer to ensure that a good experience is enjoyed by everyone.
7. Enjoy the Shopping Experience:  Finally, don't be a bridezilla during the period.  The bridesmaids will have to give up their time and sometimes their resources to ensure that they spend this valuable time with you while you are looking for the bridesmaid dresses.  While it is an honour that you have asked them to be your bridesmaids, it is also a privilege that they have agreed. Therefore, the bride has to make sure that it is fun for them and enjoy the whole process of trying on dresses, choosing colours, taking measurements, fittings and so on.  Go for lunch or drinks before or after every bridal appointment and discuss the experience and any important facts to note. Involve them in the choosing process and listen to their concerns or reservations about certain dresses, colours or anything else.  Make them feel special and you will be sure to find the perfect dresses that everyone is happy with.
I hope this helps you with your bridesmaid dresses shopping.
Happy wedding planning and many blessings,
Omo
---
Estilo Moda Bridal is a Wedding Dress and Bridal Wear Designer based in Milton Keynes Buckinghamshire that designs and creates dream wedding dresses and other bridal wear for brides all over the United Kingdom and worldwide.
Speak to us about trying on some of the stunning wedding dresses and bridesmaids dresses we have in our collections priced at different points to make it easy to match your budget.  You may also prefer for us to create a bespoke wedding dress or some bridesmaids' dresses for you based on designs that you may have seen and would like to combine different features of.  We work with all the best fabrics that some of the biggest bridal designers in the industry use and we also have over 1000 colours in different fabrics so you will be spoilt for choice.
To contact us, send an email to info@estilomoda.co.uk or call 01908925152 and let us know your bridal wear requirements.
www.estilomoda.co.uk

Find and Follow Us