Estilo Moda Bridal was at The National Wedding Show which took place at Birmingham NEC from the 27th of February until the 1st of March 2015. It was our first time at Birmingham and 2nd time at the National wedding Show, the whole experience for us with the wedding industry big leaguers is still new and definitely a learning curve.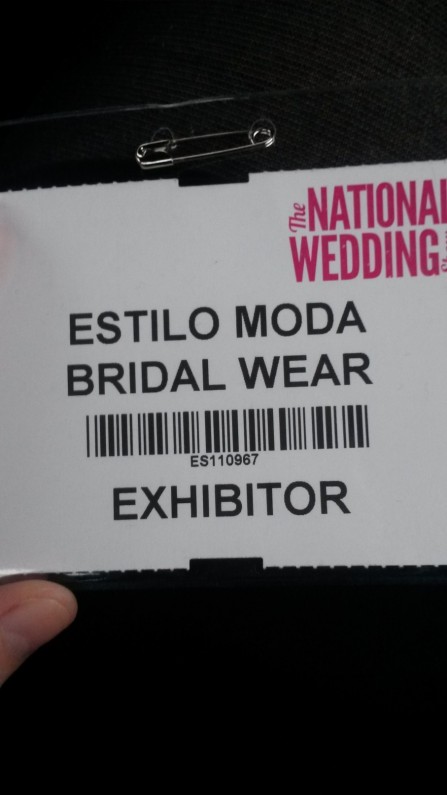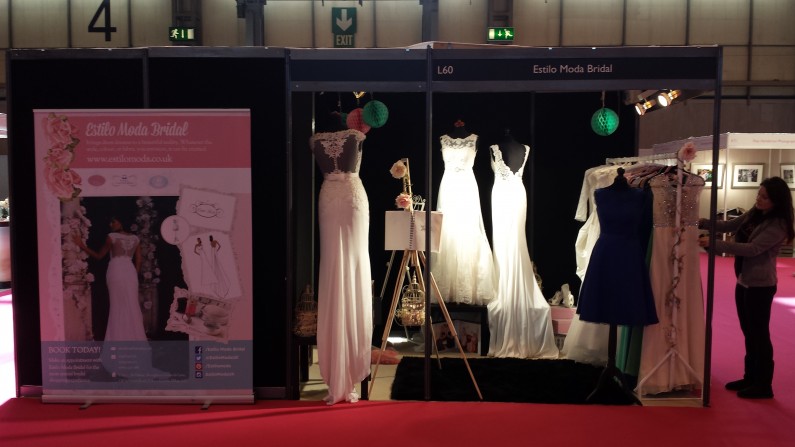 A few weeks before the show, we posted pictures of dresses on Facebook asking our fans which dresses they would like us to take to the show and the response was overwhelming and oh so helpful. Thank you to everyone who helped us to choose the dresses that made it to the show. Your choices were just the right dresses for the show and the brides loved them.
We spent many hours planning and putting things together from what our stand would look like to what dresses to take, to how the team would be dressed, which props to use to create a beautiful and welcoming scene for the brides-to-be. We were still positioned close to the Catwalk and VIP Lounge and we had our own exclusive changing room and so we knew we really had to create something amazing for the brides to see. We noticed that we were one of some of the most amazing and popular brands in the wedding industry who were positioned around the catwalk and VIP area and believe me we were honoured.
We set off on Thursday to set up our stand to reflect the welcoming ambience of our beautiful bridal studio in Milton Keynes, using such props as vintage stacked boxes, birdcages, bunting, hanging vintage pom-poms, and other quaint and quirky decorative items. We took our time to set up our signatory flowery wallpaper and we felt the stand looked amazing! Unfortunately, we forgot to take pictures as we wanted to take the pictures the next day when we had brought all the dresses and props to complete the look.
Day 1 of The National Wedding Show: We set out bright and early and got stuck in so much traffic that we thought we would never get there before the brides did. Thank God, the traffic cleared up in time and we got there that morning with a few minutes to spare. When we walked into the hall, we could see from a distance that there was something wrong with our stand. OMG!!! The wallpaper had fallen off. The same wallpaper that we had so painstakingly put up the day before and were so proud of. It reflected our brand perfectly with its flowers, birdcages and so on. We were heartbroken but in true EM fashion, we wiped the shock horror off our faces quickly and got on with it! Due to the wallpaper disaster, our walls were uncharacteristically black but lots of people said, they could see the dresses even more clearly and from a distance. We were also commended by the brides on our matching company blazers! Friday was busy but we knew it was nowhere near as busy as Saturday or Sunday would be but we still had lots of brides leave us with their details and we promised to get in touch with them.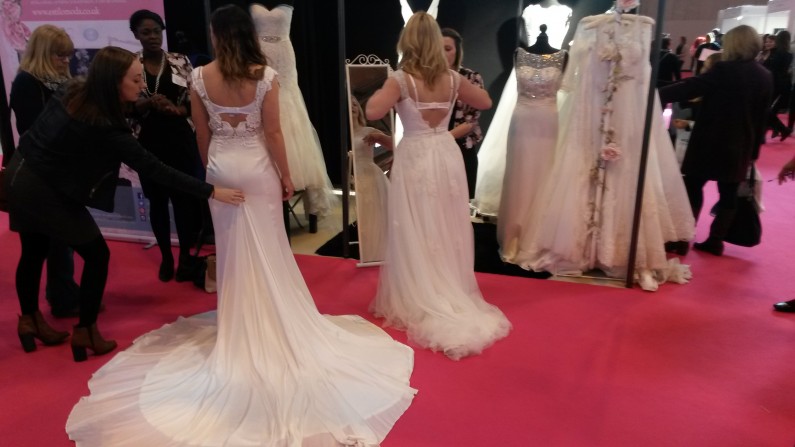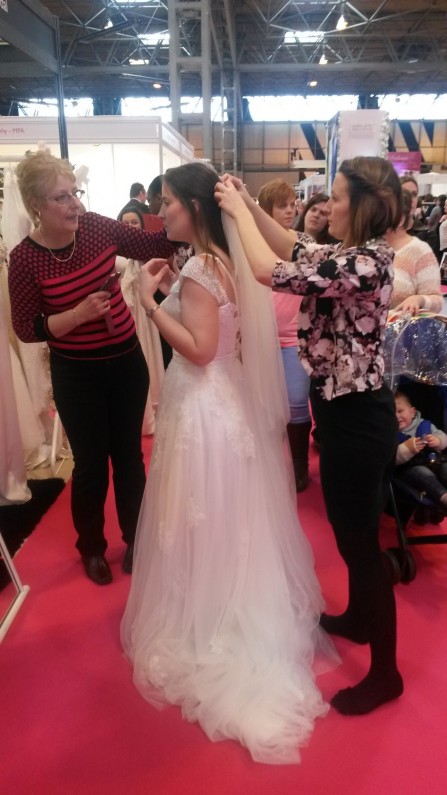 Day 2 of The National Wedding Show: We were so ready for Saturday because we had been advised by a wedding photographer who had been to the National Wedding Show in Birmingham in previous years that there were 8000 brides registered for the Saturday show. The brides came in droves; very eager to find out about us and what we do. Many brides and bridesmaids tried on wedding dresses and bridesmaids dresses and we had chairs ready for Mums and Nans who happily commented on what worked and didn't work on the dresses for their beloveds. It got to a point where it was so busy, we had to give out appointment slots for brides to come back and try on dresses. It didn't stop until the end of the day and some brides found their dream dresses there and then and other brides booked appointments to come in and speak to us in our Bridal Studio in Milton Keynes. We spoke to the brides about the features of Estilo Moda Bridal's Savvy Chic and Jade Bridal collections and they loved the idea of having the option to choose from either a luxury or budget collection to suit your taste and requirements.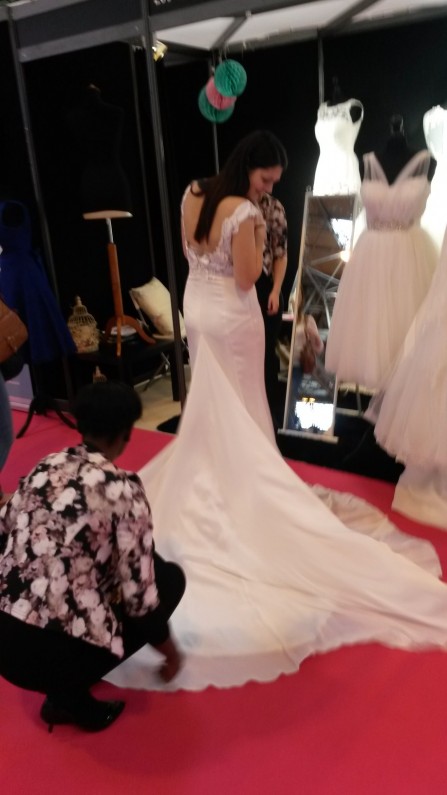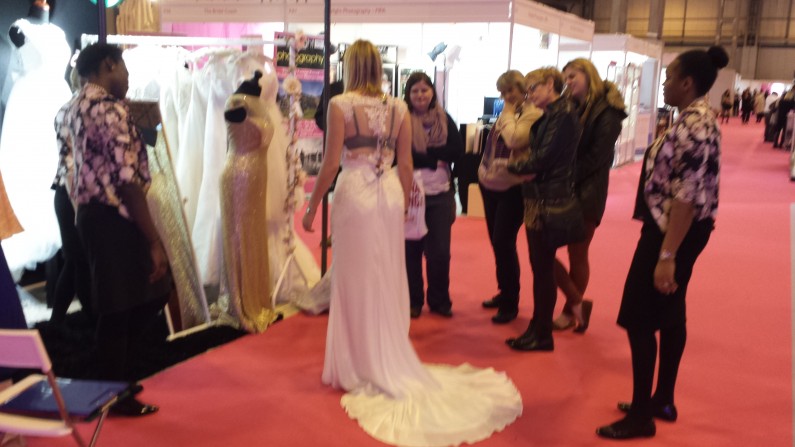 Day 3 of The National Wedding Show: If anyone had told us that Sunday would be even busier than Saturday, we would have found it hard to believe but it was. Brides attended the National Wedding Show from all over the country and were delighted to hear that we are well accustomed to working with brides not only countrywide but also worldwide. In fact, some of these brides have already ordered their wedding dresses from us and it's been only four days since the show. Some brides who had their wedding dresses sketched on the spot could not believe it and said how amazing the experience was for them. We had more brides book appointments to come in and see us right there and a whopping amount of names of brides as well as their contact details who wanted us to send them more information about us.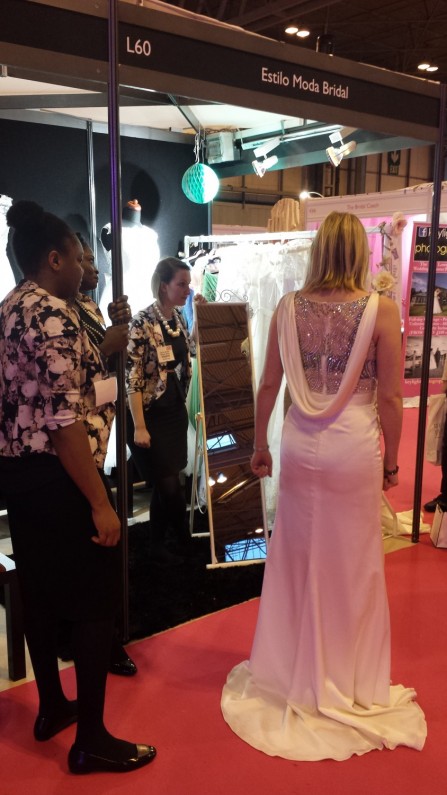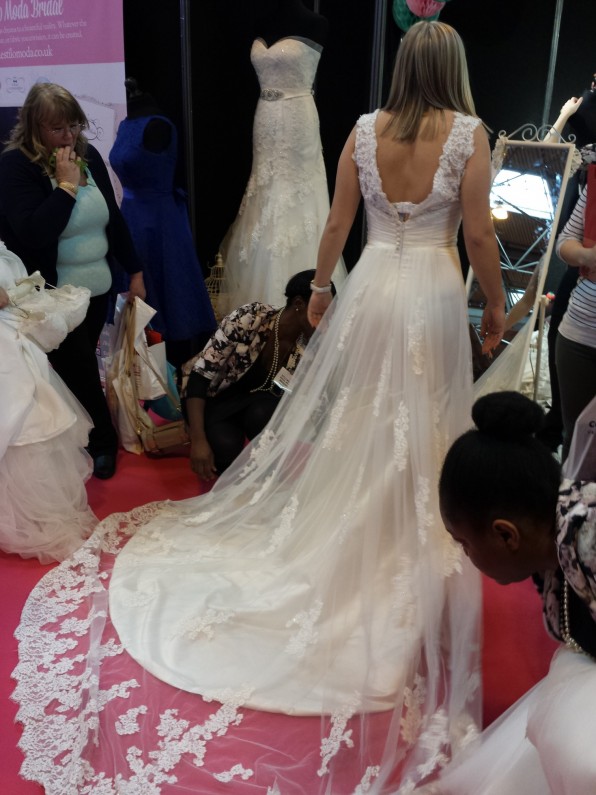 Throughout the three days, never did the smiles leave our faces, not even when we had to take turns to go for a 10 to 15 minutes lunch breaks on day 3 and not even when our feet felt like they were on fire from standing for such long hours. Many brides and their families commented on what a friendly bunch we were. Someone said it was refreshing. The best part was how much the brides who attended loved our dresses. We had comments like "the back of that dress is to die for", "I can definitely see myself wearing that dress" and "eek, I think I've found my dress" and "what do we have to do to get this dress".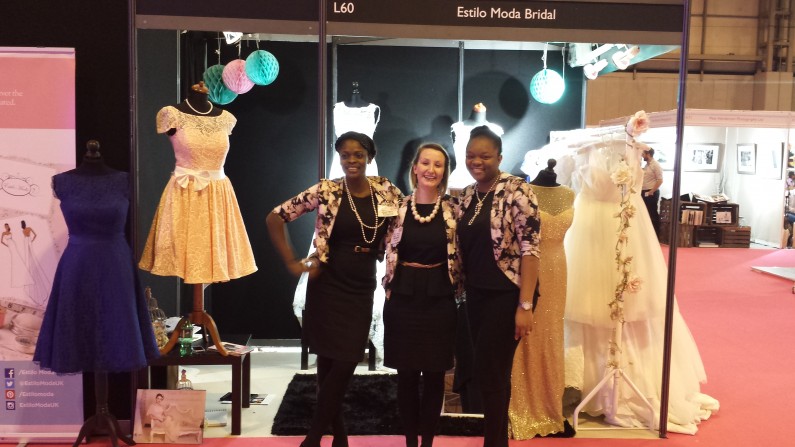 I hope you have enjoyed our images from the National Wedding Show Birmingham NEC. We are getting ready for The National Wedding Show which is holding in September at the London Olympia and believe us when we say we simply can't wait!
If you met us at The National Wedding Show in Birmingham last week, we would love to see you again or meet you to discuss your wedding dress requirements and don't forget that you get your 10% off discount for chatting with us at the show. Call us on 01908925152 or email info@estilomoda.co.uk
Many blessings and have a fun filled wedding planning!
The Estilo Moda Bridal Team
---
Estilo Moda Bridal is a Bridal Wear Designer based in Milton Keynes Buckinghamshire that designs and creates dream wedding dresses and other bridal wear for brides all over the United Kingdom and worldwide.
Speak to us about trying on some of the stunning dresses we have in our collections priced at different points to make it easy to match your budget. You may also prefer for us to create a bespoke wedding dress or some bridesmaid's dresses for you based on designs that you may have seen and would like to combine different features of. We work with all the best fabrics that all bridal designers use and we also have over 500 colours in different fabrics for your bridesmaids so you will be spoilt for choice.
To contact us, send an email to info@estilomoda.co.uk or call 01908925152 and let us know your bridal wear requirements.
www.estilomoda.co.uk

Find and Follow Us
[gravityform id="1″ title="true" description="false"]