Everyone written about in our bridal wear woes blog posts is delighted for us to share their story with you to get a better insight into how we work and how we help solve your bridal wear problems.
---
Last year, we met a bride who very excitedly booked her wedding dress shopping appointment with us and when we sent her a pre-appointment email which included amongst other titbits of information, the question about how many people will be accompanying her to the consultation.  To this, she replied 15!!!. Let me repeat that – 15!!!.  Shock!, Horror! and most definitely a serious state of panic.
We tried to convince her that it may be a good idea to come with less people for an initial wedding dress consultation with us but she wasn't having it.  Some of her aunties, cousins and bridesmaids were coming from far away and she could not deny them the pleasure of seeing her try on wedding dresses and pick the one.
So the beautiful day arrived and so did our very lovely bride and her humongous entourage.  Believe me when I say we were outnumbered very many times over and even though I have done this for eleven years, it takes a very strong person not to feel a pinch intimidated at first.  I should not have been worried though because by minute 5 into the consultation, I could understand why she wanted all of them there. I felt like a part of the family and was already laughing so hard that I could barely speak.
When our bride started to try on dresses, we quickly realised that we could have a really explosive situation on our hands as of course they all had a different idea of what should work and what shouldn't, what suits her and what doesn't and what they would have worn and what they would not be caught dead in. Everyone was talking at the same time and the bride could just not get a word in.  At a point, she put her hand over her ears and looked ready to cry.  We had to ask everyone to tell us one after the other what they thought of the wedding dresses she tried on.  They were all so happy to oblige when they realised how distressed she was getting and then we really began to have a lovely time.
One of her aunties thought she looked like a nun in our Victoria Dress from our Jadé Bridal 2015 collection even though our bride said she loved the long lace sleeves and soft chiffon skirt of Victoria. Her aunty wanted her to show a bit more skin.  She must have said 'if you've got it, then flaunt it' a thousand times.  Oh, the joys of this wonderful occupation.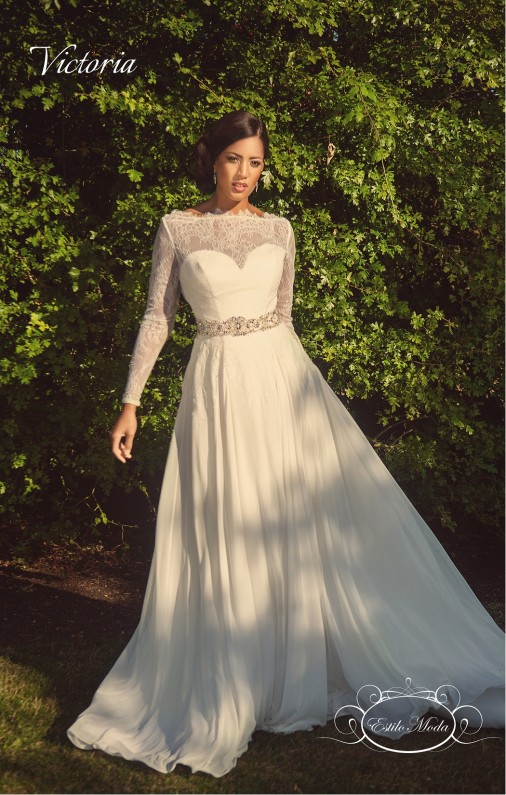 Her Mum said she had always envisaged her in a really full skirt wedding dress with a bit of lace as the detail and so we had her try on our Avina wedding dress from our Grace and Lace collection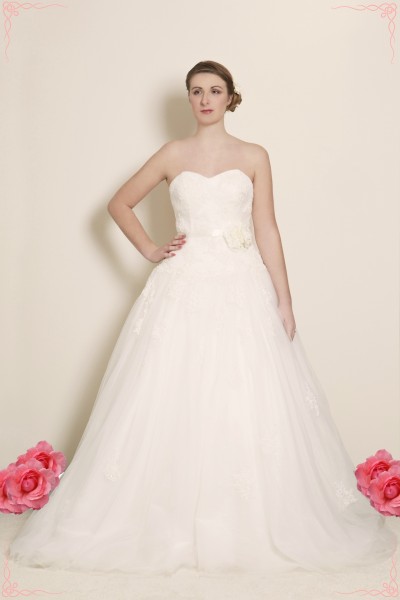 Her sister loved Amira so much that she got really teary when our bride put her on. She loved Amira's sexy slinkyness and she could just not get over the low deep V lace back. She said that would have been her 'the one' if only she could find a man who would be crazy enough to marry her. I laughed so much at this consultation.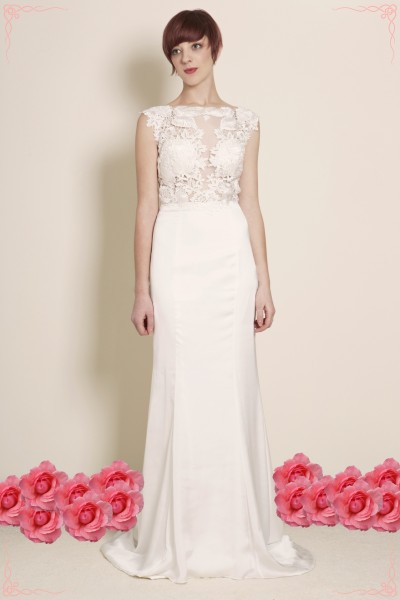 We decided to have her try on Aleah as we felt that she would incorporate quite a lot of the different details that everyone seemed to agree suited our bride and I'll tell you what, I've never seen someone look as happy as she did when she was in that dress. There were tears all round and for the first time since they had been with us for over an hour, there was silence.  It was amazing to behold. To just nail it, we decided to add a veil to the look and my goodness, the reaction was magic.  I heard someone say tearfully 'you look like a bride' and I thought, 'that's exactly what we want her to look like'.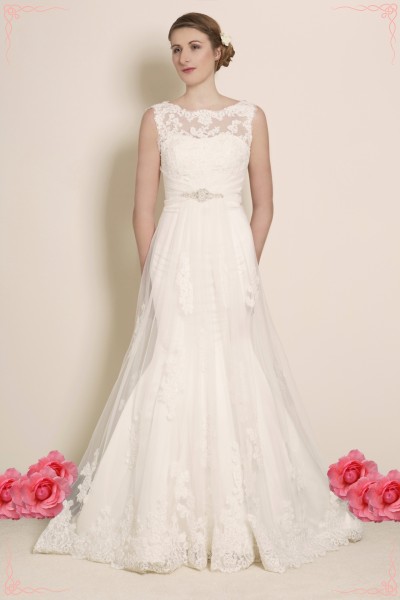 Good old Aleah! 'She's done it again', I thought. Our bride loved the alencon lace, the tulle A Line layer, the satin mermaid skirt layer, the bateau neckline, the deep V back. Everything. There was nothing about Aleah she did not love… weeellll, except for the train.  She could not imagine navigating a 40 foot train on her wedding day as she said she is very clumsy and would probably fall flat on her backside trying to unwind herself from the folds of the train.  We decided to create a shorter train for her instead and I could not believe it when I everyone's heads bobbing in unison and complete consensus.  Have I told you how much I love this job? Another bride had found the one and we allowed her to make her changes to make it perfect for her. Result!
I hope you have enjoyed this story about one bride's wedding dress shopping experience with us and how we worked with her big party to get the best out of everyone and ensure that we all had a really lovely time at the end of the day.
Happy wedding planning and many blessings,
Omo x
---
If you are worried about the type of wedding dress shopping experience you would have, then contact us immediately.  We really do make it count.  This wedding planning period should be the most special of your life and we always make sure that you and your entourage are given the best and most friendly treatment throughout your journey with us. Book an appointment for your own special wedding dress shopping experience.
[gravityform id="1″ title="true" description="false"]